Hip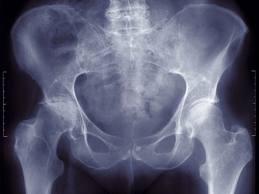 Hip replacement, also referred to as hip arthroplasty, total hip replacement; or hip hemi-arthroplasty, is a surgical procedure in which all or part of a diseased hip joint is removed and replaced with an artificial device (prosthesis). The hip is essentially a ball and socket joint, linking the ball at the head of the thigh bone (femur) with the cup-shaped "socket" in the pelvic bone. A total hip prosthesis is surgically implanted to replace the damaged bone within the hip joint. If the surgery is a "hemi-arthroplasty," the only bone replaced with a prosthetic device is the head of the femur.
Some of the more common reasons for hip joint replacement are:
The wearing down of the hip joint that results from osteoarthritis,
Rheumatoid arthritis (a chronic inflammatory disease that causes joint pain, stiffness, and swelling)
Avascular necrosis (loss of bone caused by insufficient blood supply)
An injury that did not heal properly
And bone tumors that lead to deterioration of the hip joint
A total hip prosthesis consists of three parts:
A cup replaces your hip socket
a ball that will replace the fractured head of the femur
And a stem that is attached to the shaft of the bone to add stability to the prosthesis
The prosthesis could be made of ceramic, metal or plastic; or combination thereof. Your doctor will discuss the best choice for you, based on your particular diagnosis.